Athens On Demand Transit
Safe, On Time, & Professional
Athens On Demand Transit is a program providing accessible and affordable door to door transportation service for all of Athens County.
Learn More
Learn more about Athens On Demand by watching this short and informational video.
Partners
Athens County Transportation Advisory Group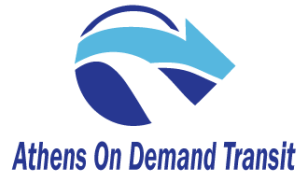 Hours of Operation
Monday - Friday 7:30 AM - 8:30 PM
Saturday 9:00 AM - 4:00 PM
Dispatch operates Monday - Friday 8:30 AM - 3:30 PM
Contact
3 Cardaras Drive
Glouster, OH  45732
Phone: (740) 597-2404
Fax: (740) 767-2301
Menu
Testimonials
"Although great friends assisted me with transportation, and that was and still is always appreciated, I have real independence with this door-to-door service for persons with disabilities and the elderly."
Dr. Carolyn Bailey Lewis
OU Professor Emerita