Athens On Demand Transit
Safe, On Time, & Professional
Athens On Demand Transit is a program providing accessible and affordable door to door transportation service for all of Athens County.
Learn More
Learn more about Athens On Demand by watching this short and informational video.
Partners
Athens County Transportation Advisory Group
Reasonable Modification
AODT provides reasonable modification to policies and procedures to customers to ensure they can effectively use the agency's transit services. Individuals requesting a modification should clearly describe what they need in order to use AODT's services. To make a request, please contact us:
Email: info@hapcap.org
Phone: 740.597.2404
Address:
Athens On Demand Transit
C/O Reasonable Modification Request
1 Pinchot Lane
Athens, Ohio 45701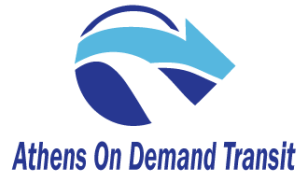 Hours of Operation
Monday - Friday 7:30 AM - 8:30 PM
Saturday 9:00 AM - 4:00 PM
Dispatch operates Monday - Friday 8:30 AM - 3:30 PM
Contact
3 Cardaras Drive
Glouster, OH  45732
Phone: (740) 597-2404
Menu
Testimonials
"Although great friends assisted me with transportation, and that was and still is always appreciated, I have real independence with this door-to-door service for persons with disabilities and the elderly."
Dr. Carolyn Bailey Lewis
OU Professor Emerita