Curious about what it takes to sponsor a food distribution? Read here where we can walk you through it! This story is authored by Lauren Flum, AmeriCorps VISTA at the Southeast Ohio Foodbank.
On a brisk January morning, teachers and administrators from the Federal Hocking School District stood outside of the Federal Hocking Secondary School in Stewart. Rather than shuffling students to and from school buses, the staff were working alongside Ohio National Guard members and Southeast Ohio Foodbank employees. Bundled in coats, scarves, gloves and masks, they waited as pallets stacked with food boxes were unloaded from a truck and arranged for them to load into the cars lined up in the parking lot.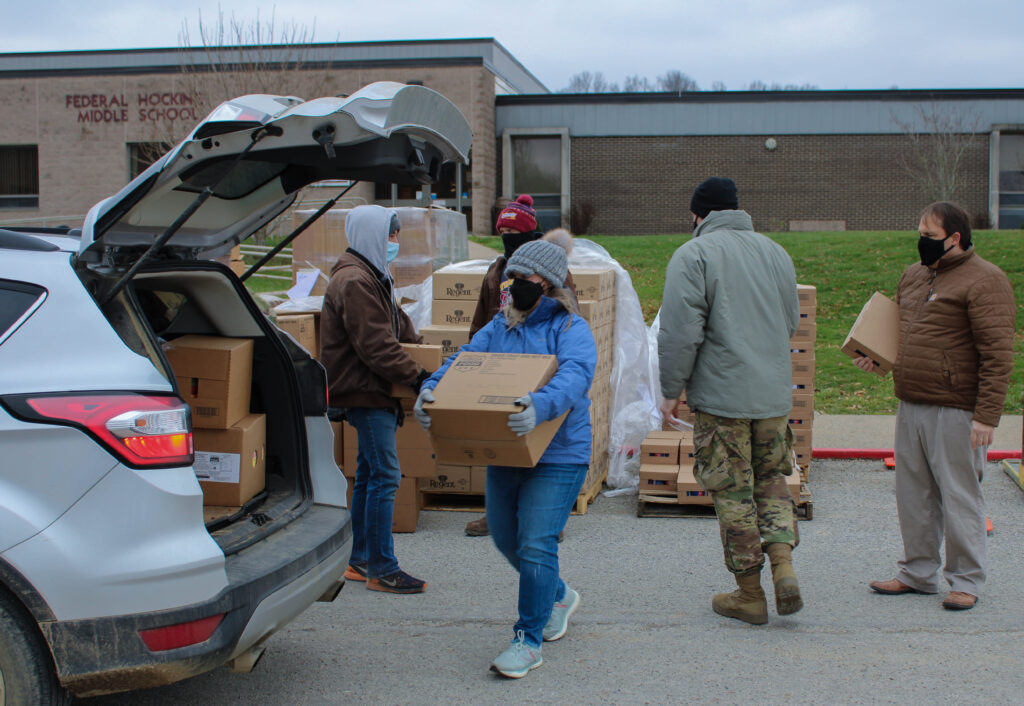 At 10:00 a.m., the Athens County Mobile Food Distribution began. Drivers registered at the front of the line and told a National Guard member how many people were in their households. Clothes pins were then secured on their windshield wiper corresponding with the amount of food volunteers would need to load into their vehicle. After registration, the car drove forward and volunteers began placing boxes full of supplemental food into their trunk.
The Southeast Ohio Foodbank is a program of Hocking Athens Perry Community Action. Based in Logan, the Foodbank's warehouse provides inventory for over 60 member pantries spanning a 10-county area. Food Distributions are often funded by sponsors wanting to provide food in a county they are connected to. Amid the COVID-19 pandemic, the Foodbank has been visiting each county that they serve at least once without a sponsor.
Once the distribution is planned, the next step is promotion. Lindsey Hackworth, HAPCAP's Community Relations Specialist, explained that promotion can be a major barrier. Oftentimes, the easiest way to learn about the distributions is through the internet. However, especially in regions like Athens County, internet is not always accessible. Hackworth and other HAPCAP staff reach out to member agencies and community partners with distribution information to help spread the word directly.
"With such high food insecurity in this area, and with our member agencies working so hard to serve the community, we want to supplement and support their work, and support the community as best as we can," said Hackworth. "Mobile distributions are an additional channel of support in the food relief network in this area."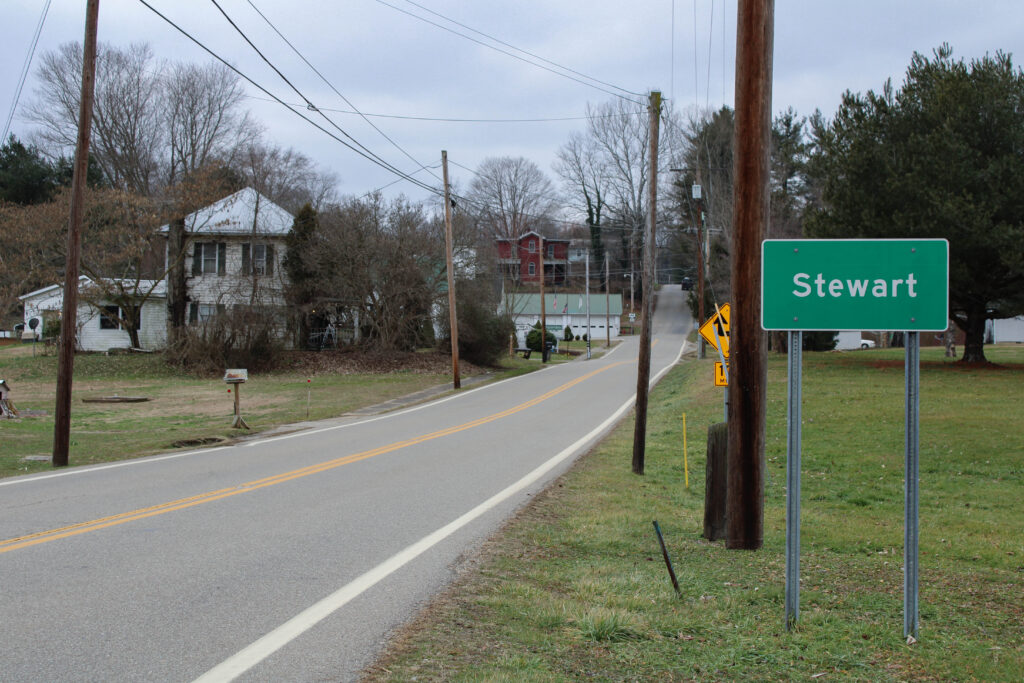 For the distribution at Federal Hocking Secondary, Geoff Osterland, a Special Education Teacher in the district, reached out with concerns about students needing food over winter break, and the Foodbank planned and funded the distribution.
According to data from the Foodbank, pantry visits were lower than expected throughout 2020. Yet HAPCAP staff heard difficult stories coming from the school districts where children were not eating on the weekends, or worried about their parents not eating.
Osterland explained that there is a lot of pride and self-determination in Appalachian culture, along with concern for others in the community. Some families are hesitant to receive help because they may be taking it away from someone else whom they believe may need it more. "Getting people to present themselves as needing help is a challenge," he said.
Another explanation is the national increase in SNAP benefits, also known as food stamps. Athens County is the poorest county in Ohio, and residents enrolled in the program, or those who may have never been eligible before the pandemic, are now finding themselves equipped with the funds to purchase their own food. Yet the increase has not been a one-size-fits-all solution.
Jamie Linscott, a Guidance Counselor at Amesville Elementary, says it's hard to come up with one simple answer as to why food may not be reaching families. Even with options such as a mobile food distribution, there are still tremendous barriers in getting parents to come to the schools to get food, such as transportation, childcare, time off work, and communication. Phone and internet bills are considered flexible when money is tight, and there is limited broadband access in the district. Out of the eight students in Osterland's caseload, only one of them has access to the internet at their home.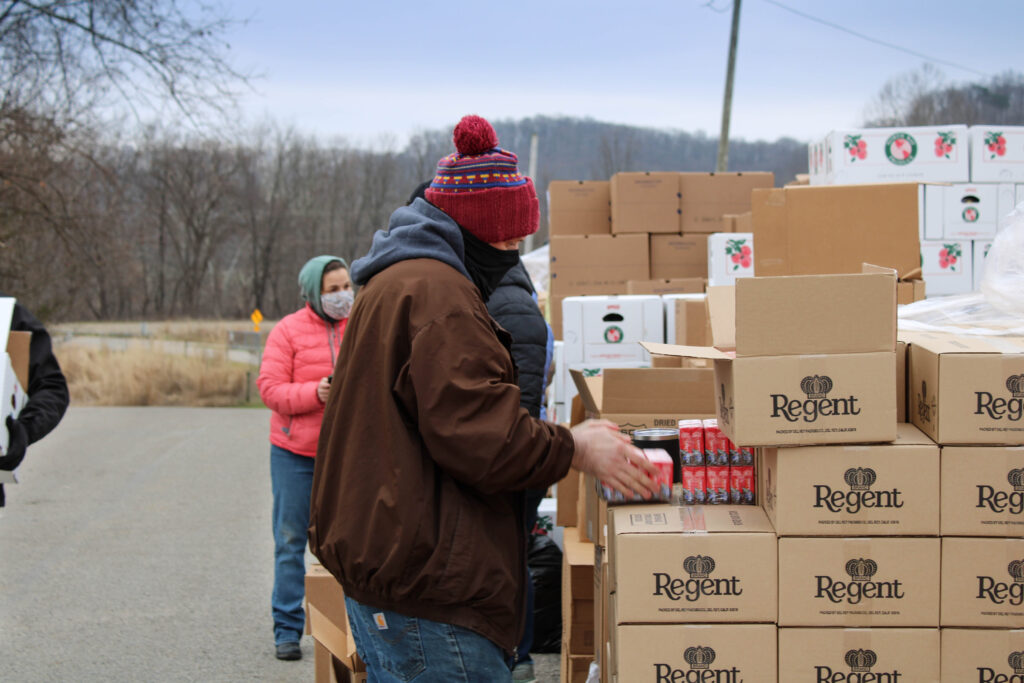 Linscott explains that the staff is being as creative as possible to meet the needs of families during this pandemic. During the summers, the district outfits a school bus to hold and distribute food to families. The staff is able to meet families in these smaller communities and socialize with them in the summertime, all while bridging the meal gap that millions of children face throughout the country.
While school is in session, students also could be sent home with food for the weekends. However, due to the recent Ohio safety regulations, students are not allowed take food home with them on the school buses. Many staff members have made the decision to load their own cars with food and deliver it to families themselves. Linscott expressed that she has no problem making the deliveries herself, "as long as we're doing it and doing it legally. That's what matters."
The Food Distribution on January 8th served 199 individuals, half of which were seniors and children. One of the Federal Hocking School District's primary missions is to build positive relationships and a sense of community with each family. Not only is that evident in their relationship with their local Foodbank, but also in their determination to make sure that kids are getting the meals they need, even if that means they must deliver those meals themselves. If you are interested in sponsoring a distribution in one of the ten counties that SE Ohio Foodbank serves, visit hapcap.org/food-sponsorships to learn more.