September is Hunger Action Month
Everyone needs nutritious food to thrive. Yet, tens of millions of people in the United States―including Ohio individuals and 1 in 4 children in SE Ohio―face hunger.
This September, join the SE Ohio Foodbank in the movement to end hunger. Your voice, actions, and commitment will help ensure every community has the food they need to thrive. Because when people are fed, futures are nourished.
Every action―big or small―is one step closer to an America where no one is hungry. Join the nationwide movement to end hunger by donating, volunteering or advocating.
How to Get Involved
Donate
Help us raise funds to support food insecurity work in SE Ohio here.
Gifts that Give Back | 66 E Main St. Logan, OH. Donate $5 and get 10% off your purchase from September 1 – September 30.
Kroger Co. Visit your local Kroger and make a donation right at checkout! Save the IMAGE, choose how you'd like to donate, and ask the cashier to scan the barcode. This program will be active for Hunger Action Month, September 1 – September 30.
30 Days of Hunger Action
Use this calendar for inspiration on how to take action (in small ways or big ways) each day this month.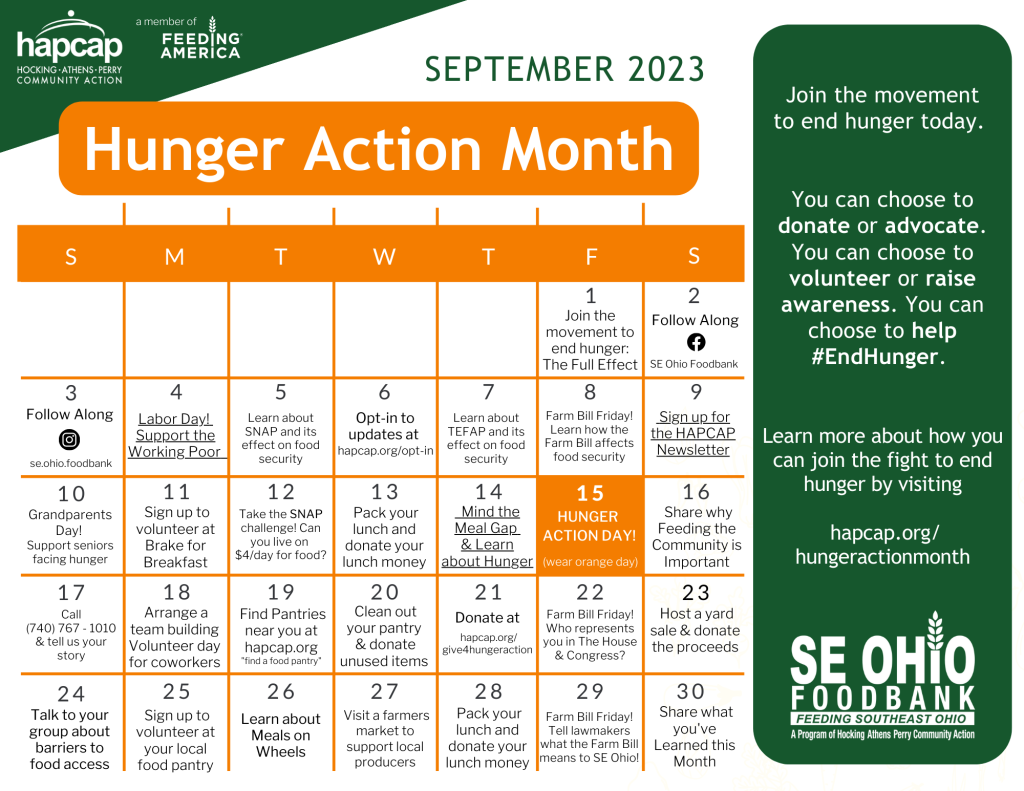 Wear Orange
On Friday, September 15 wear orange to show your support for the effort to end hunger. Post your picture on social media with #HungerActionMonth and email it to us at info@hapcap.org
Volunteer
Volunteers are an essential part of our team! We have many ways to get involved. Fill out our Volunteer Interest Form and we'll match you with an opportunity.